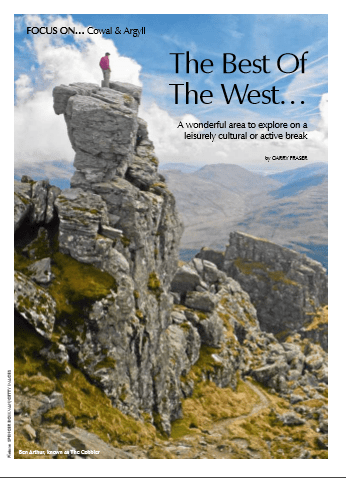 Kirsty gets a mention in the October edition of The Scots magazine. Kirsty organised a visit to the Cowal Peninsula for journalist Garry Fraser who was blown away both by the locale and by Kirsty's knowledge and expertise. The magazine, which has a print run of 70,000, splashed the article over a seven page spread, featuring places to visit and stay. The magazine is read all over the world in, amongst other places, Canada, New Zealand and Australia, as well as of course the UK.
Garry says: "Kirsty Weir, born and bred in Dunoon, made for a perfect guide. She prepared for me an extensive itinerary, but it was soon apparent that what I was about to see was the tip of an iceberg of attractions that Cowal can offer. I would see quite a lot of the east side, but the west will be left for another day."
Thanks to Kirsty's input, one her clients – Ardkinglas House on the shores of Loch Fyne (www.Ardkinglas.com) – was featured in a very glowing account, along with another local attraction Quadmania. The article is so positive about the area, that it sure to tempt visitors to come to this lovely part of the world.