Kirsty Weir Hospitality is excited to announce the launch of a newly designed website at www.kirstyweirhospitality.co.uk, which goes live today, Wednesday 23rd September 2015.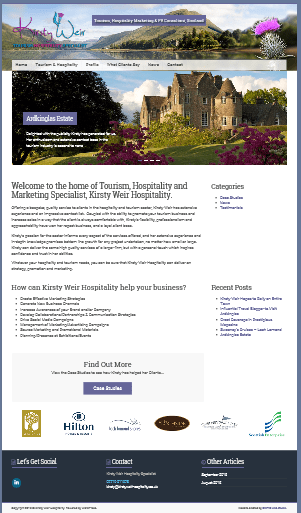 The site's homepage welcomes visitors with a clean and fresh design, easy to navigate pages and content featuring some of Kirsty's key successes in Commercial Tourism, Hospitality & Marketing.
Content and articles on the new website will be updated on a regular basis, giving details of new events, case studies and key projects, as well as the latest news and developments in the tourism and hospitality sector.
Kirsty's primary goal in commissioning the new website is to attract new visitors, provide potential and existing customers with key information on the kinds of services which Kirsty can offer to her clients and provide details of past and recent successful projects - allowing customers to decide whether Kirsty's skills are the right match for the job!
The site was created by GraffiQ Web Studio.  For further details, or to enquire about a website of your own, please direct all enquiries to GraffiQ quoting referral code KWH1.